Description
The 140 page handbook. *Only* 
I have personally designed the course to share my knowledge and teach you the strategies to consistently and successfully trade the Forex Markets.
This course welcomes both beginner and advanced traders and is suitable for all trading styles based on price action.
This package can be sent worldwide.
The topics discussed in the book are:
1.What is Forex?
1.0 The Forex Exchange.
1.1 Who's involved in the forex market.
1.2 The diffrent strategies.
1.3  Active trading hours.
1.4 Charts.
1.5 Fundamentals.
2.  Technical Analysis
2.0 Support and Resistance Lines and Zones
2.1 SBR / RBS
2.2 Supply and Demand – The Basics
2.3 Supply and Demand – How to draw Supply and Demand zones.
2.4  Market Structure.
2.5 Market Structure – Chart Patterns.
2.6 Market Structure – Reversal.
2.7 Magic of Ema's
2.8 Break out trade.
2.9 Market Structure -Keep an eye on momentum.
2.10 Market Structure – The trend is sometimes your friend.
2.11 Market Structure –  Market Phases.
3.  Market Manipulation
 3.0 Market Manipulation.
3.1 The Quasimodo.
3.2 Fake Out.
3.3 Candlesticks pattern change.
3.4  Compression.
3.5 Putting things together.

4. Japanese Candlesticks.
5. The Mindset/Psychology behind Trading.
6. Trading Plan.
7. Checklist.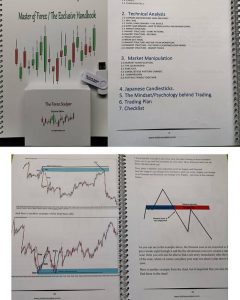 Learn together – Win together.
Discipline. Focus. Patience – It's the key.